In Photoshop
Save your Splash page for the Web... as a .jpg or .gif. Open this saved version.
Double-click the Marquee Tool to set the Fixed Size to the dimensions of your intended movie.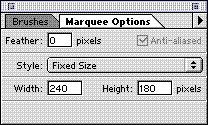 Drag some guides from the Rulers (Command-R) to help with exact positioning.
Frame the corner quadrant (240x180) or top or bottom edge banner (480x100) you plan to capture for the background of your Quote movie.
Once the marquee is aligned, copy this selected portion (Command-C), create a new document (Command-N), and paste (Command-V) it into the new document window. Save as a .jpg or .gif into your folder.